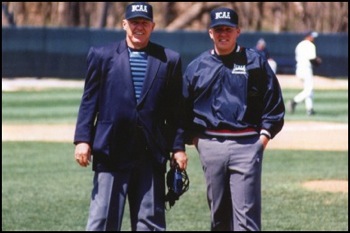 ABOUT THE CLASSIC


PLAYER OF THE GAME AWARD: Following each game an award will be given out to one player who was selected for the "Most Valuable Player Award". Please keep your players and coaches on the field until the end of the MVP award is presented

BATTING CAGES @ SAYDEL: For games being played at the Saydel field, there are TWO brand new batting cages available for teams that are the NEXT SCHEDULED game. Each team will be allowed to use one of the cages. NO team is allowed to use both cages unless the other team wishes NOT to use the cage. You will need to provide your own baseballs; and each team is expected to clean up their cages after they are done.

New Cages features the following:
Cement flooring covered by Astroturf
Astroturf has painted batter boxes
Protective screens

SPORTSMANSHIP: Remember that this CLASSIC was conceived in the honor and memory of a man who was all about CHARACTER and SPORTSMANSHIP. Brent loved the game of baseball and loved his career at Saydel High School. Any lack of SPORTSMANSHIP will NOT be tolerated. The umpires and athletic departments from Saydel High School and all of our host schools will not stand for it. Teams that violate this request will NOT be invited back next year.